NMP Deck Block - For 12mm rope
Part #NMP-D562222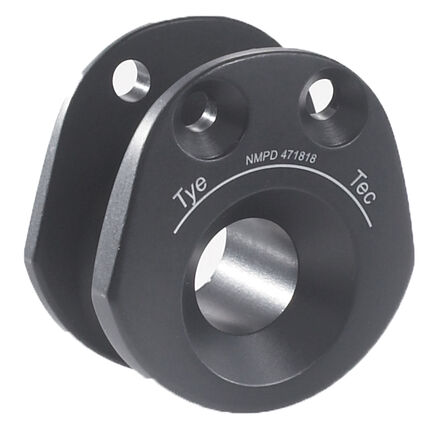 NMP Deck Block - For 12mm rope
Description
The NMP-D block to be mounted on deck, on the mast, on a track or slide.
The NMP-D block is fixed with a stainless-steel screw through the central bore. Two smaller screws on the outer radius maintain the rope in position against the sheave.
Without these two screws, the block can be used as a deflector, just flipping the line behind it.
The MWL specified relates to the horizontal force on the block with its lower face on the deck.The MWL can be lower for different types of attachment and in relation to the stiffness of the deck.
Applications
Cheek block
Technical information
Materials

Anodised aluminium

Length (

mm

)

56

Working load (

kg

)

6000

Weight (

g

)

70

B (

mm

)

22

d diameter (

mm

)

12

D diameter (

mm

)

5
Caption
Working load (WL) : for nautical applications
Working Load Limit (WLL): for industrial applications only.
The safety factor is 5 times the breaking load.
WLL = Breaking load / 5