Speedlink HR trigger snap shackle - Universal eye - Length: 87 mm
Part #2652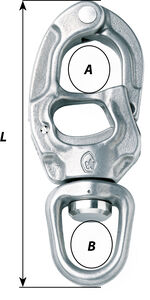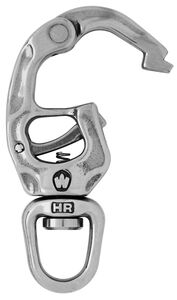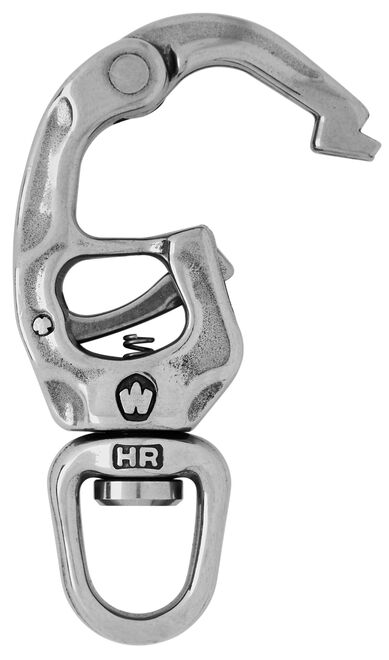 Speedlink HR trigger snap shackle - Universal eye - Length: 87 mm
Description
Make the right choice!
Speedlink is the new trigger snap shackle dedicated to spinnaker operations on racing boats and offering an excellent weight / performance ratio.

Ultra lightweight: developed by using finite element analysis software, Speedlink has an optimised design thanks to its shape, cut-outs and ribs. Its make it extremely design and gives its one of the best strength/weight ratios on the market.
Easy opening: opening under load, whether manually or using release fid, is easy and effortless thanks to the generous passage diameter and its optimised slopes.
No accidental opening: the special shape of the latch reduces inertia and avoids unintentional opening, especially under impact.
Sturdy: Speedlink is forged in HR stainless steel and can bear outstanding working and breaking loads for a minimum weight.
Modern design: its ultra-technical lines avoid excessive rope wear and prevent adjacent lines from jamming.
Applications
Spinnaker operations: sheets, halyards, peeling
Technical information
Materials

HR 17.4 PH stainless steel grade

Length (

mm

)

87

Working load (

kg

)

1440

Weight (

g

)

97

A (

mm

)

17

B (

mm

)

15.5
Caption
Working load (WL) : for nautical applications
Working Load Limit (WLL): for industrial applications only.
The safety factor is 5 times the breaking load.
WLL = Breaking load / 5
CAD file
In order to get access to our CAD library, please fill out the formular below. The CAD drawing will be sent to you by e-mail.