Wichard Marine's 2023 products presented at the Amsterdam METSTRADE in November 2022
The Wichard Marine team will welcome you to the tradeshow from November 15th to 17th, 2022, in Amsterdam. At this special occasion for nautical professional, we will present you some of our new products. New stainless steel marine hardware products and blocks will be available since the beginning of 2023.
Discover some of the new features in preview.
More fastenings and blocks for 2023
Mooring hooks
Among mooring hooks, Wichard develops 3 chain grip kits, suitable for 3 chain grip models :
Chain grip kit - 12 mm rope - length 4 m

 Chain grip kit - 12 mm rope - length 5 m 

Chain grip kit 16 mm rope - length 6 mm 
Kits include 1 stainless steel chain grip, 1 pre-spliced twisted and 3 strand polyester
They are ready to use and no splicing knowledge is required.
These products are suitable for sailing and motorboats.
Snatch Blocks
Wichard extends its range of soft snatch blocks, by launching 2 new models, heavy load applications :
Soft snatch block - 24 mm rope size - Working Load: 9T

Soft snatch block - 32 mm rope size - Working Load: 15T
Thanks to their high resistant resistance and lightness, these snatch blocks can be used for various applications on board such as :
flying sail furler terminals

barber-hauler

sheets

mast foot blocks.
These blocks are easy to install thanks to Dyneema loop.
They can be opened and closed very quickly thanks to the Velcro strap.
Folding fairlead padeyes
Within the folding pad eyes range, Wichard offers 3 new models of fairlead folding pad eyes : dia 6 mm, dia 8 mm and dia 10 mm.
These fastenings can prevent rope wear thanks to their optimized design. They will be dedicated to applications like flying sails furler tensioning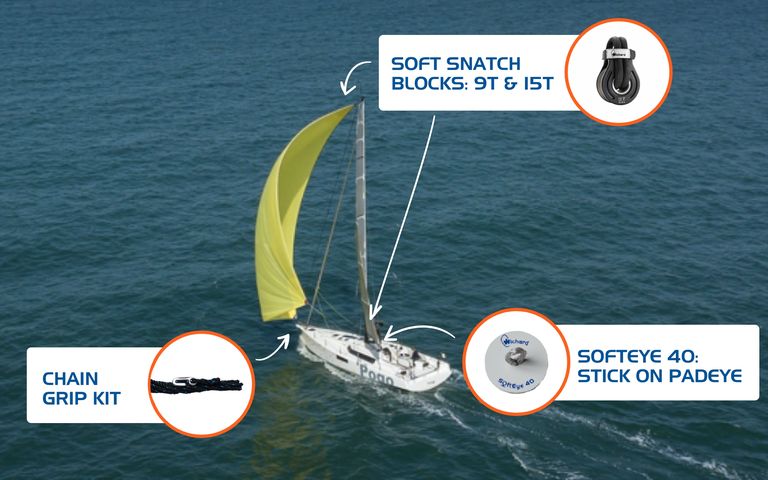 Fixed round padeyes
The range of fixed round padeyes evolves with 2 new products with larger diameters : dia 76 mm and dia 95 mm. These fastenings are made from Duplex stainless steel grade, which offers an outstanding mechanical and corrosion resistance. Round padeyes have multi-use such as : reefing blocks, fastening points on bowsprit and on blocks.
Stick-on padeye
One of the new 2023 products is the Softeye 40 stick-on padeye
Made from reinforced plastic fiber glass by Dyneema, this padeye is compact and light.
The installation is easy as no drilling is required.
Softeye 40 can be used for : lee cloth, rope retainers and equipment storage.
Long Shackles
Wichard provides a new self-locking long shackles with a longer dia than the previous ones : 12 mm. The company also launches a captive pin long shackle version with a 12 mm dia. These shackles are highly resistant and there is no risk of loose due to vibrations.
If you want to learn more about our products, meet us at the METSTRADE or contact us via our website.